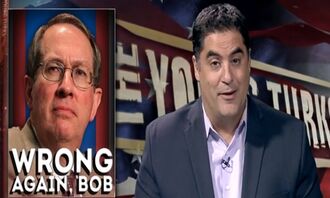 Wrong again Bob
is a saying on the Young Turks mainly used by
Cenk Uygur
. The meaning of it is pretty much what it sounds like, it is simply used to point out that someone was wrong. In other words Bob could be anyone or even several people.

Cenk got it from TYT Co-host Ben Mankiewicz who told a story about his father Frank Makiewicz. Back in the day when the movie JFK was coming out conservative political commentator Robert "Bob" Novak gave the movie a bad review without seeing it which Frank pointed out. As Frank was holding a screening of the movie Novak pretty much invited himself to the event even though Frank told him he would not get a ticket to that particular screening. When Novak later arrive at the screening he is expecting to be let in but there are no tickets left for him like Frank explained before. When Novak isn't let in he get's Frank to the entrance and tries to tell him that he should be in the theatre. Frank once more explains that there is no more tickets to which Novak answers "Frank, I thought you were smarter than that." This leads to legendary TYT line from Frank Makiewicz to Bob Novak, "Wrong again Bob".
So the quote itself isn't actually related to any of the actual TYT members but Cenk claims that this is one of his favorite stories and he still uses the line frequently on the show.
Here is a video of Cenk explaining the story to Oliver Stone:
Community content is available under
CC-BY-SA
unless otherwise noted.