Cenk Kadir Uygur
 (
Turkish pronunciation: 
[ˈdʒɛŋk ˈujɡur]
; born March 21, 1970)
is  a Turkish-American columnist, political commentator and activist. Uygur is the the main host and co-founder of the American/liberal/progressve political and social internet commentary program, The Young Turks (TYT) and the co-Founder of the associated TYT Network. A naturalized U.S citizen, Uygur was born in Turkey and raised from age eight in the United States. He worked  as an attorney in Washington D.C and New York before beginning his career as a political commentator. Originally a moderate Republican, he is now a progressive.  In addition to hosting the main show in the first political hour and he co-hosts the second hour "social commentary" alongside Ana Kasparian - Cenk appeared on MSNBC as a political commentator in 2010, later hosting a weeknight commentary show on the channel for nearly six months until being replaced by Al Charlatan. Shortly after leaving MSNBC, Uygur secured a show on Current TV that aired from December 5, 2011 to August 15, 2013. Uygur was from 2012 to 2013 the chief news officer of Current TV, succeeding Keithe Olbernmann following his departure from cable television network until Current was acquired by Al Jazeera Media Network
Early Years
Uygur was born in Istanbul, Turkey and emigrated with his family to the United States when he was eight years old.[9] He grew up in East Brunswick Township, New Jersey and graduated from East Brunswick High School. He attended the Wharton School of the University of Pennsylvania where he majored in management[10] and was on the Student Activities Council representing the Turkish Students Association.[11] He also earned a law degree from Columbia Law School[12] and worked as an associate attorney at the law firms of Drinker Biddle & Reath in Washington, D.C. and Hayes & Liebman in New York City.[13]
Uygur first appeared as a talk show host on a weekend radio show on WWRC in Washington, D.C. and on WRKO in Boston. He later wrote for, produced, and appeared on the WAMI-TV news showThe Times in Miami, then started The Young Turks on Sirius Satellite Radio.
Founding TYT
Edit
In 2002 Cenk founded the radio show The Young Turks.
Current TV
Edit
Controversy 
Edit
Armenian Genocide
Edit
Back in 1999, Ugyur wrote a letter to the editor of Salon disputing the armenian genocide as a fabrication of self-deluded Armenian historians. 
"I am a Turkish-American, and I am sure my views will also be looked upon with a certain wariness, but I do not subscribe to the idea that I am disqualified from objectivity by my ethnicity," Uygur wrote about an earlier article in the online magazine. "First, at the very beginning of the article, you seem to reach a conclusion – 'The central Armenian experience of the 20th century, after all, was the death of as many as 1.5 million Armenians …' and 'Every neutral scholar agrees that the Turkish position is propaganda.'"
Which are comparable to other holocaust-deniers – including those of the anti-Semitic variety – Uygur explains that the Christian Armenian deaths at the hands of the Muslim Turks was all just a matter of war propaganda – in this case World War I that brought an end to the Ottoman Empire. The U.S. was behind it all, Uygur wrote, just "as it [was] with Germany." The other problem, he said, was that there weren't enough "Turkish-Americans to combat the insinuations of savagery."
"I once asked a professor of mine who taught a class on the laws of war and war crimes at Columbia Law School to deprogram me from all the propaganda I had received growing up Turkish," wrote Uygur of a conveniently unnamed professor. "I asked him to please find me evidence of the genocide by neutral scholars so I could know the truth. After investigating the issue, he came back and said that he could not find one non-Armenian scholar who believed this was a genocide, but since 'it looked like a duck, it walked like a duck and it talked like a duck, it must be a duck.' If that's not the product of excellent propaganda, I don't know what is."
Cenk later committed himself to debunking the "myth" of the Armenian genocide. Eight years earlier, Uygur was whitewashing the Turkish genocide in his college years. In fact, as a youth, he blamed the entire conflict on Armenian terrorists who caused "countless deaths".

Video Gallery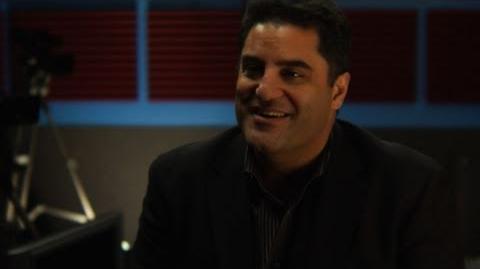 Community content is available under
CC-BY-SA
unless otherwise noted.